Landscape & Hardscape Services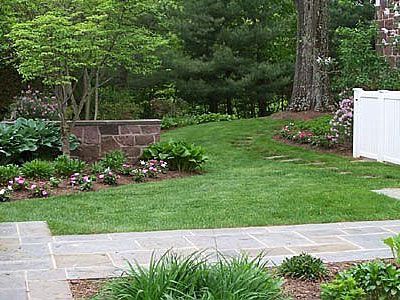 Moss Landscaping is a leading company in this industry, and we handle various projects for clients throughout New Jersey. Our team of experts can create and install unique fire pits that are superb in design, resilient, and durable too. We have been in this space for over 34 years, and very few local landscaping companies can match our expertise and skills. Our company offers a wide variety of services including:


Landscape Design
The design and layout of your landscape are probably some of the most critical aspects of the project. As a full-service landscaping company, we provide complete landscape design and conceptualizing solutions. On our team are expert designers that work very closely with you to determine what your specific requirements are. They make sure that every feature and element that they design for you is in line with your needs and suits the styling of your landscape. When we are developing a landscape, we focus on aspects such as durability, functionality, ease of maintenance, and cost-effectiveness. Read more about Landscape Design >>


Landscape Installation and Planting
Once the landscape design has been finalized, we move onto the landscape installation phase. This stage of the project involves the installation of the masonry and plantings on your property. We help you choose the right kind of plants, shrubs, and trees and will also install lawns for you. Besides, we handle the design and installation of all types of hardscaping features, including walkways and pathways as well as retaining walls and outdoor living spaces. We make sure that the installation of all of these features is completed to industry standards and that there is the perfect balance of hardscaping and softscaping on your property. Read more about Landscape Installation and Planting >>


Hardscape Design
Hardscaping is an essential aspect of any landscaping project. These features become the foundation of various other installations and elements in these outdoor areas. We have skilled and experienced hardscape designers that provide custom designs for multiple features such as patios, decks, retaining walls, fire pits, and fireplaces. They also design pergolas, pool decks, walkways, and more. We ensure that every single feature in your landscape has a specific purpose and is functional, resilient, and appealing. This attention to detail goes a long way in giving you stunning outdoor spaces that you will love to use every single day. Read more about Hardscape Design >>


Hardscape Installation
Installation of various hardscaping features in a landscape has to be handled systematically. Not only does the design have to be followed to the tee, but good quality materials and the right installation techniques need to be used. We are very meticulous in our approach to handling any hardscape installation project. We provide these solutions for new landscapes as well as landscape upgrades. Whether you want a paver patio or a pool deck installed, we have the skill, experience, and resources to provide you the best solutions at cost-effective pricing. Read more about Hardscape Installation >>


Paver Driveways
The driveway leading into your residential or commercial property is one of the first things that anyone notices. This feature also sees significant wear and tear, making it necessary to ensure that exterior grade, resilient materials are used in the work. We are the experts that provide high-quality paver driveway design and installation solutions. We work with you to make sure that your driveway meets your vision. Our team can also make sure that the walkways leading from the driveway into the yard are styled to match the driveway. You can choose for pavers made of natural stone, concrete or brick. Read more about Paver Driveways >>


Paver Patios
A patio is a great place to relax and entertain in. Since this feature is exposed to the elements, it is necessary to use suitable quality materials in the construction. It is why we recommend the use of paver stones for patios. You can opt for interlocking concrete pavers or units made of brick or natural stone. All of these materials are incredibly resilient and able to weather the elements and UV rays of the sun. We provide customized patio design and installation solutions. Our team will give you detailed information about various products, styles, and designs, helping you make a better-informed decision about the type of patio you want. Read more about Paver Patios >>


Paver Walkways
When we are designing paver walkways, our team ensures that the design and style of these features complement your driveway. You can select walkways made of concrete, natural stone, or brick pavers. These units are available in different shapes and sizes, colors, textures, and more. We can also install a concrete or natural stone edging along the edges of the walkways. Our team will plan the design of the walkways based on discussions they have with you. They will also take into account factors such as the available space and the overall layout of your landscape. Read more about Paver Walkways >>


Outdoor Living & Kitchens
Making the best use of the available yard areas is a lot about ensuring that you plan and install the right outdoor living features. We have the expertise and skill to provide high quality, customized outdoor living, and kitchen areas. These areas will be designed correctly and will have the right kind of elements and structures. We handle every aspect of this project and will make sure that you have a stunning, functional, and resilient outdoor kitchen that lasts for many years. We can install paver stones and construct retaining walls with in-built seating around the patio, to make optimal use of the available space. Read more about Outdoor Living & Kitchens >>


Fire Pits
As a full-service landscaping company, we handle every aspect of your landscaping project, such as the installation of fire features. Many people like the idea of getting a fire pit installed in the yard. We handle this job creatively, making sure that the brick, stone, or concrete fire pit that we design and install for you becomes the focal point of your landscape. We make sure that the structure, styling, and materials used are in line with your ideas and vision. Our hardscape designers are here to guide you and provide advice on the types of materials that will be best suited to your landscape design and style. Read more about Fire Pits >>


Pergolas
One of the best ways to improve the usability of your yard is to get a pergola installed. This semi-shade structure can be installed in any area of your landscape. Many of our clients like the idea of a pergola installation on their patio or deck. The area under the pergola gets a certain amount of shade, and you can use it comfortably during the summer months without worrying about the sun's rays. We can design and construct pergolas made of wood, aluminum, vinyl, or composite. Since we custom-design the feature for you, it will fit in perfectly with the overall style and theme of your landscape. Read more about Pergolas >>


Residential Landscape Maintenance
While we do provide high-quality landscape design and installation services, we are also focused on providing clients reliable and efficient residential landscape maintenance solutions. Even the most resilient landscapes required regular care and attention. We have skilled professional maintenance crews that take the time to assess your property's needs. Based on this assessment, they will design a landscape maintenance program for you. Some clients also opt for one-off maintenance overhauls, and we are more than happy to provide these solutions as well. We use the best materials and equipment in our residential landscape maintenance projects, and our customers always get value for money. Read more about Residential Landscape Maintenance >>


Commercial & Community Landscape Maintenance
The success of any commercial landscape project is based on the resilience of the materials used in it. The installation techniques and timely completion are other aspects that matter, as well. We are a company that provides high-quality commercial landscape installation solutions as well as complete maintenance services for these areas. Our team of experts has in-depth knowledge about lawn and garden care and make sure that all of these installations are maintained to perfection. Creating a well-balanced landscape that is also sustainable is about using organic grade products for fertilization and pest control, and this is something we do without fail. Read more about Commercial & Community Landscape Maintenance >>


Garden Center & Landscape Products
We understand that when clients hire us for their landscaping project, they prefer that we handle every aspect of the job. It is why we maintain a garden center that has an entire range of landscaping supplies, products as well as different types of plantings. Using the right kind of products helps to ensure that your garden and lawn spaces are healthy and resilient at all times. Our team is here to help you with planting selection. They will also provide complete details about the type of maintenance schedule that you would need to follow for these living features in your landscape. Read more about Garden Center & Landscape Products >>


Retaining Wall & Raised Patio Design & Install
Retaining walls are specially engineered features that are constructed to provide support to sloping land and hold back rock and earth. They help prevent soil erosion on properties and improve the overall integrity of a landscape. Constructing retaining walls requires significant knowledge about different materials and building techniques. Our team can build retaining walls & raised patios and provides perfect solutions for problem landscapes. These walls will improve the stability and overall usability of your landscape. Read more about Retaining Wall & Raised Patio Design & Install >>


Drainage & Grading
In addition to ensuring that your landscape has the right kind of features and elements, it is also essential to have proper drainage and grading in the outdoor spaces. We have been handling these jobs for many years on commercial and residential properties. The grading of the outdoor areas needs to be done with attention to detail. It helps to prevent water pooling in various areas of the landscape, which in turn helps to maintain the health of the plantings and condition of the hardscapes. We also provide drainage feature installations to make sure that the water run-off off from patio and deck areas is directed towards the exterior boundary of the property. Read more about Drainage & Grading >>


Septic Installation
We have extensive experience in the design and installation of septic systems on commercial and residential properties. If you live in a rural area and require a septic tank system, give us a call. We have professional, experienced team members that will discuss your requirements and provide you all the details you need about the installation process. Some precise regulations and standards need to be followed while installing septic tanks. We understand that these features are vital to the drainage system on your property. We make sure that they are constructed well, as per the local building code. Read more about Septic Installation >>


Excavation Services
Whenever any outdoor structures for landscaping features are being constructed, a certain amount of excavation is needed. We offer a wide variety of excavation solutions for features such as basements, pools, septic systems, outdoor structures, and more. Aside from this, we also offer high-quality water line and sewer excavation services. We use the latest equipment in our work, and our technicians are experienced, knowledgeable, and highly skilled in their job. It means that we can complete the excavation safely, efficiently, and within the allocated budget. All of these are critical aspects of any construction project. Read more about Excavation Services >>


Paver Sealing & Maintenance
Pavers are incredibly resilient outdoor grade materials used in various applications such as patios, decks, entryways, driveways, and walkways, etc. There are different types of paving stones available such as ones made from natural stone, brick, and concrete. Maintaining these surfaces involves cleaning them regularly. Another way to ensure that your paved areas are well-protected from stains, scratches, the UV rays of the sun and more, is to get them sealcoated. This application adds to the resilience of your pavers and increases their longevity. We also provide reliable and timely power washing and paver sand filling services as part of our maintenance solutions. Read more about Paver Sealing & Maintenance >>

If you need any landscaping services, we are the company to call. Our team makes sure that the solutions they offer are customized to your needs and fit your budget. For any more information, feel free to call Moss Landscaping at 908-725-7536. You can also contact us through this Online Form, and one of our team members will call you shortly to discuss your project details.


Call us to learn more: 908-725-7536, or send us a message.